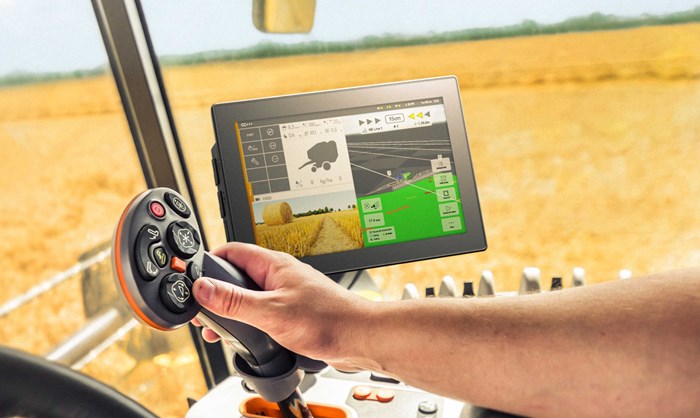 Multifunctional ISOBUS terminals
ISOBUS is a 'plug and play' solution to connect and control any supported tractor terminal and implement combination, with very high adoption in Europe and increasing adoption in key global markets.
And the trend is clear, the availability of ISOBUS-ready implements is already very rich and growing. Many tractors now come with some form of ISOBUS terminal solution, either as a separate, optional terminal or integrated in the main tractor terminal. And many implement OEMs also offer ISOBUS terminals as an option.
When researching tractor operator environments, we have climbed a great number of cabs and joined the ride, both to interview operators on how they want to use their equipment, and to observe how they actually use it today. One thing stands out - many cabs have too many displays. There is tractor terminal, ISOBUS terminal, specialty terminal for a non-ISOBUS compatible implement, video monitors etc. This multitude of displays often obstructs outside visibility and fragments operator attention. It is clearly a challenge for the operator to manage and use these different systems efficiently because each system has its own design philosophy around how information is displayed, including how to navigate menus, change settings, screen selection and machine setup.
By integrating ISOBUS Universal Terminal and Task Controller with generic tractor terminal functions in one, multi-functional terminal, you can achieve a seamless, efficient HMI system for the tractor and implement combination. This approach will save real estate in the cab and make the need for separately sourced displays for the vehicle, ISOBUS and video monitoring redundant.
We offer freely deployable software components for ISOBUS UT & TC. With these pre-built components and based on our range of display hardware, tractor OEMs can create multi-functional terminals without having to develop these functions from scratch. This multi-functional terminal approach enables OEMs to take complete design control of the whole tractor operating environment.
CrossControl is a long-standing supplier, to both tractor and implement OEMs, as well as ISOBUS system suppliers of ISOBUS terminal solutions.