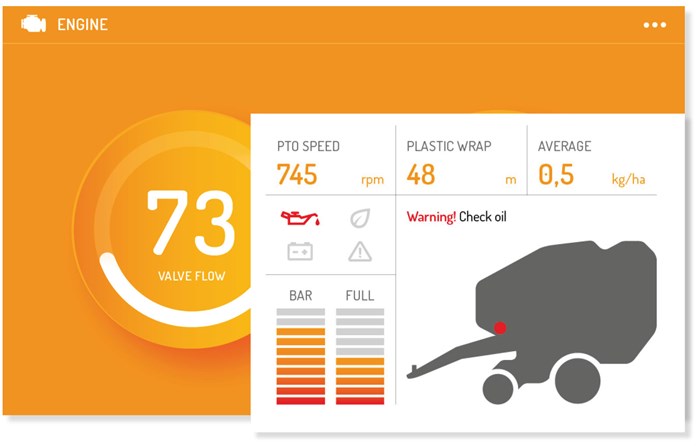 Digitized instrumentation
It is now easier to serve operator attention with critical vehicle information by using digitized instrumentation instead of analog instruments and gauges.
This improves safety, protecting the equipment better but also other assets and humans in and in the vicinity of the equipment.
When designing a digital instrumentation display, a typical pitfall is serving the operator with too much information at the same time, cluttering the display with static instrument information irrelevant to the current task. A better approach is to provide an instrumentation display which situation based, meaning that only the instrumentation needed for a certain work mode is on display. This approach can include the option to apply the principle of "no news is good news", for example if an instrument parameter is within nominal boundaries, it is not displayed. Consequently, when a parameter is approaching or passing a critical boundary, that information is pushed to the operator to be "in their face", using a combination of screen real-estate, color schemes and audible alarms to draw the operator's attention. The conditions governing what to show and how to show it is easily processed in the background. Together with customers CrossControl have developed mission-critical instrumentation displays for a wide range of applications.
When choosing hardware for your digital instrumentation solution there are a few factors to consider in ensuring both proper user
attention and quality human-machine interaction. One is to have a screen that copes with varying ambient light conditions, managing readability in direct sunlight and offering automatic dimming to reduce brightness when there is little or no ambient light.
Another factor is contrast and the ability to display colors vividly. A third important consideration is viewing angle, ensuring that screen content is always visible and readable to an operator as they naturally move throughout the work day, given how it is installed in the cab. CCpilot displays come with high-quality screens that address these critical visual aspects of delivering digitized instrumentation.
Digitized instrumentation means there is a huge increase in what is achievable for the look and feel of your instrumentation. With our extensive Qt libraries you can easily customize your instruments to both reflect the brand identity of your equipment. With support for overlays, transparency, transitions, animations, multi-language and more, CCpilot displays allow developers to create the same user experience you get in a modern car dashboard.