Modern machine systems are moving towards shorter release cycles, with continuous feature enhancements and ever improving operator experiences. CrossControl's modular technology platform, continuously validates and applies new technology modules or components that help customers add functionality and value to their vehicle systems.
Hardware
On the hardware level we apply a modular architecture. With this approach, components can be developed and validated independently of each other, and the platform can be continually updated to incorporate the latest technology. A common software platform means that content can be reused across the entire range and prebuilt modules provide functionality that customers can integrate with their application project. With the platform approach, technical risks are reduced and the time to realize a product is shortened. Also, functional prototypes can be derived fast from the platform, supporting early proof-of-concept studies and ability to develop software and hardware in parallel.

Software
Software is becoming key differentiator in industrial vehicles helping to deliver key features like instrumentation and guidance, reenforce brand identity, and deliver innovations like operator assistance, integrated vision systems and software over the air updates.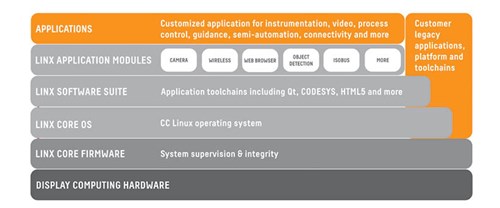 With our modular open platform, designer can select which level of support fits best to their project needs and software make-buy strategy – firmware, OS, pre-packaged toolchain with libraries, and application modules – to address these issues.

LinX Core includes all the necessary firmware to enable complete platform functionality and operating system support. LinX Software Suite contains our pre-packaged toolchains for developing applications with powerful and state-of-the-art tools for graphics, controls and fieldbus networking. Out of the box it supports two main development tracks, Qt-based system development using UX Designer or development according to the IEC61131-3 standard for PLC programming utilising CODESYS. The Suite includes libraries for accessing and interfacing with commonly required functionality and devices. LinX Application Modules are available at any level and can be used to enable commonly desired functionality with easy to use, and well documented instruction sets, code examples, packages, and guides.