CrossControl offers a robust open platform, available across all display sizes with support for multi-screen solutions, to enable system designers to license and authorise their software and deploy multiple applications with a leading-edge windowing framework for Linux.
Multiple Applications
As part of our open software platform, we offer a window management solution built with a leading-edge windowing framework for Linux. It offers development teams the support needed to create one HMI system that deploys multiple dynamic applications. Applications can be built with toolchains of choice, including Qt, CODESYS, and HTML5. Each application can be maintained separately, providing flexible life cycle management, where you can add and update Apps throughout the product's deployment, without needing to make new releases of every application.

Developers can design the HMI system and GUIs so that applications can adapt to fit task requirements, switching between predefined layouts as vehicles change operations. End users can be given the option to set their layout to suit their individual requirements. The robust framework is available across all display sizes and supports multi-screen solutions.

Easily License software
The new CrossControl License Manager module is a simple and ready to use licensing handler for CCpilot displays that makes it easier to control your software in machines that use CCpilot displays.

The license manager takes care of the entire chain.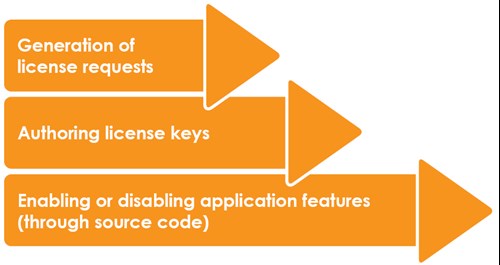 Example use cases include:
Authorizing launch of applications/functions/services during boot
Provide time-boxed licenses to unlock features for a set duration
The basic instance of the License Manager does not include payment processing, user data storage, or cloud solutions. Developers may use parts of the module and incorporate it into their own business platforms to add support for these features.